Czech Prague Photography Tour
October 14-21, 2022 SOLD OUT, contact Chuck to get on the wait list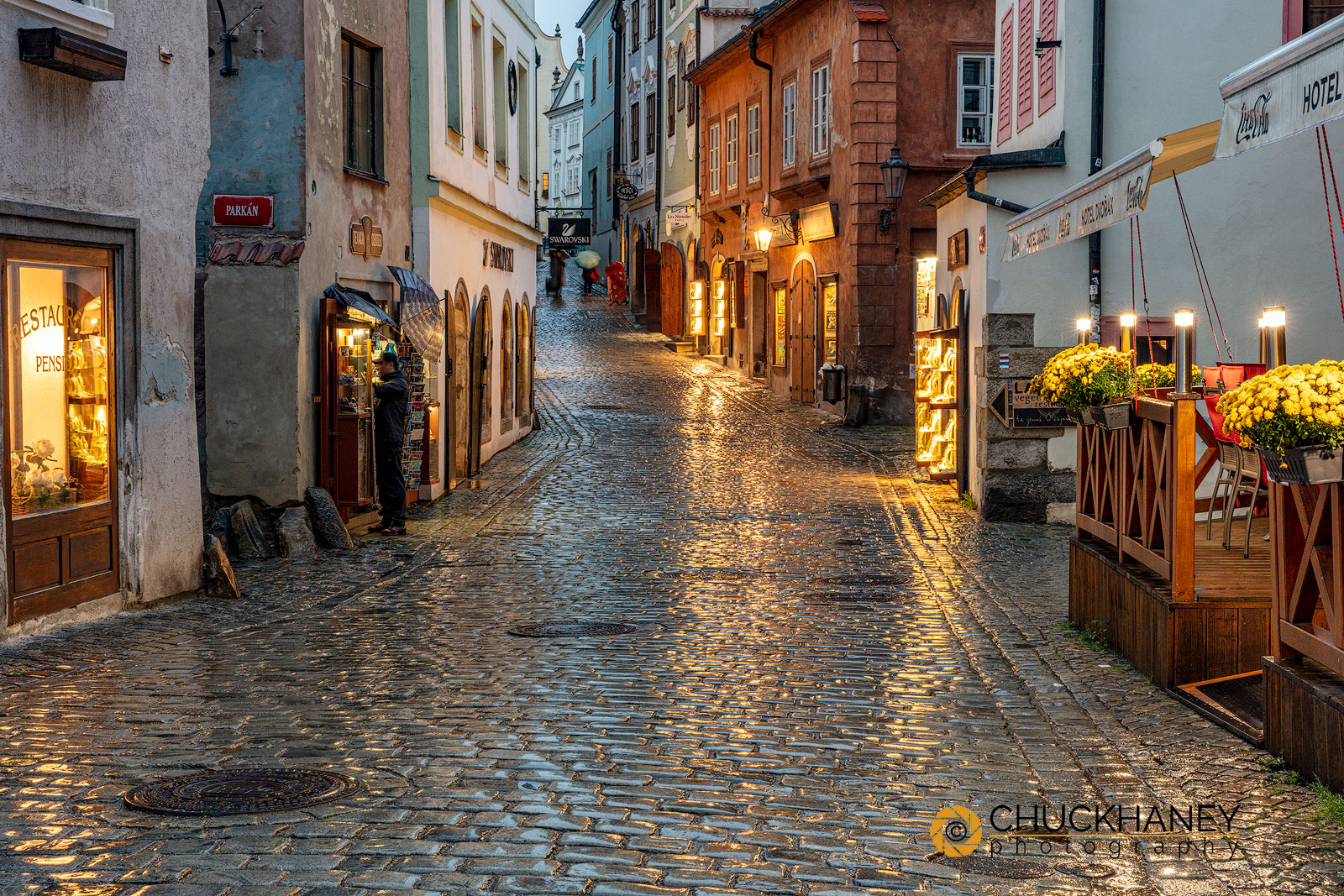 Czech Prague Photo Tour Gallery
Czech Prague Photo Tour
Dates:
October 14-21 2022 SOLD OUT, contact Chuck to get on the wait list
Must be vaccinated for COVID-19 to attend
Location:
The first time that I walked in the old Town district of Prague, my mouth was agape and I stood in astoundement at the beauty of the ancient architecture. There were photo ops at so many locations. We'll have plenty of opportunities to capture the heart of this stunning city from our convenient location near the Vltava River, the Prague Castle and Old Town. We'll be out at dawn to capture "blue hour" when the city lights mix perfectly with the morning ambient light. We'll spend the day relaxing at cafes and taking in local culture before heading back out for sunset and twilight shooting. We have arranged with a local guide for a boat cruise down the Vltava River, historic sections of the city and a private tour of the Strahov Library at an ancient monastery where we will have dinner complete with famous Czech Pilsner beer that comes from a 800- year old recipe!
On part two of the trip we will be shuttled down to the quaint historic village of Cesky Krumlov. There we will again wander the cobblestone streets at dawn and dusk to photograph the unique beauty of this charming place.
We finish up by getting shuttled back to Prague for one more photo shoot. You will be shuttled to Prague airport at the conclusion of the tour.
I'm only taking a small group of 6 (including myself) so that we can shoot more comfortably in the narrow streets. It will be a great opportunity to experience Czech culture and come back home with amazing images.
Price:
$4250.00 single occupancy room. PayPal $4420.00 All-inclusive trip includes; airport shuttle, 7 nights lodging, breakfast each day and 4 dinners, guided tour in Prague, Monastery library private tour, round trip shuttle to Cesky Krumlov- Prague, photo guide, small class size. Limited to 5 students.
Fly into:
Prague
 Workshop Tour Itinerary 
Friday October 14- meet in Prague, PM- explore Prague on foot.  Hotel Bishops (near the Charles Bridge).
Saturday October 15- am explore Prague on foot / pm- guided city tour- Monastery- tour of library, dinner
Sunday October 16- Prague
Monday October 17- am Prague, checkout, shuttle to Cesky Krumlov, staying at Pension Kristian
Tuesday October 18- Cesky Krumlov
Wednesday October 19- Cesky Krumlov
Thursday October 20- am Cesky Krumlov, checkout, shuttle back to Prague, Vlatava River overlook, overnight in Prague, Hotel Three Storks
Friday October 21- final sunrise shoot in Prague, workshop over, shuttle back to airport
Equipment Suggestions:
A sturdy tripod is a necessity for good landscapes. Participants should have a working knowledge of their equipment (know which button does what!) before the workshop. I suggest a SLR camera with a wide-angle lens (15-35mm range), 24-105mm lens is my workhorse on these trips and a medium telephoto lens up to 100-500mm.
2 WAYS TO REGISTER: 
*My Preferred Payment 1) DOWNLOAD REGISTRATION & WAIVER FORM – Updated 2021-22-Workshop-Register-form
FILL OUT COMPLETELY AND MAIL WITH CHECK OR MONEY ORDER  TO:
Chuck Haney Photography
608 Pine Place
Whitefish, MT 59937
2) ONLINE REGISTRATION (Payment via Paypal) *PayPal Holdings, Inc. is an American company operating a worldwide online payments system that supports online money transfers and serves as an electronic alternative to traditional paper methods like checks and money orders.