Glacier National Park Photo Tour and Workshop, Montana
Dates: September 18-22, 2022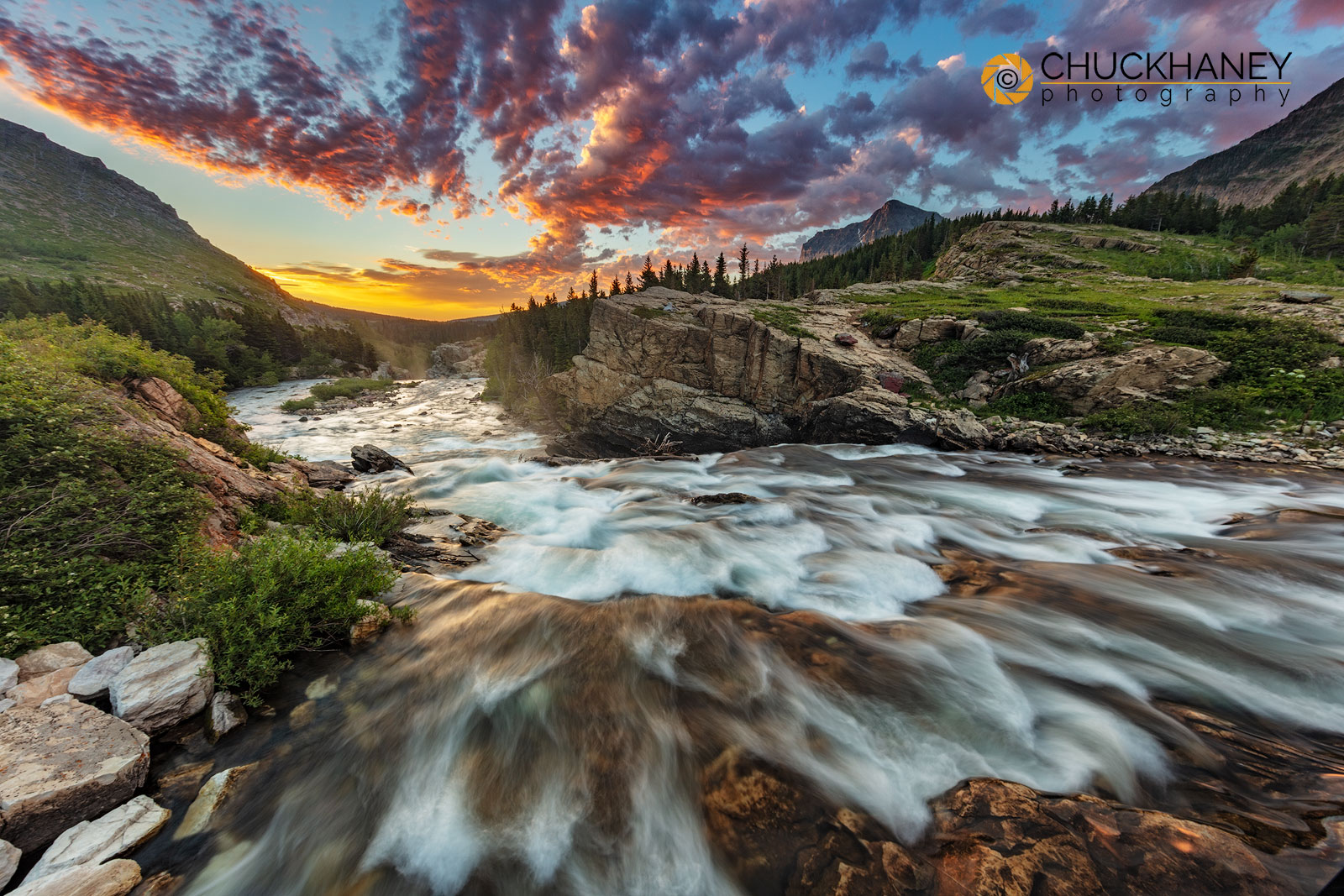 Glacier Park Photo Workshop 
Glacier National Park Photo Tour and Workshop, Montana
Dates: September 18-22, 2022   SOLD OUT, contact Chuck two get on the wait list
Price:
$1200.00 Workshop price includes instruction only. Lodging, transportation, and meals are students' responsibilities. We will carpool. Limited to 8 students.
Cancellation Policy:If you cancel and the workshop is otherwise filled, we will refund you the full amount you have paid towards the tuition, minus a $150 service charge. If you cancel and the workshop does not fill, then you will be refunded according to the following schedule, based on the full fee of the Workshop:
Greater than 60 days from the start date of the Workshop: full refund minus $150 fee.
45 days: 75% refund. 30 days: 50% refund.  Less than 30 days: no refund
Refunds will be paid by the same method that the original payment was made.
 We highly recommend that you purchase "Travel Insurance" at time of registration to cover your expenses in case of cancellation.
Lodging options:
St Mary Lodge, 406-892-2525, https://www.glacierparkcollection.com/lodging/st-mary-village/
The Cottages at Glacier https://www.thecottagesatglacier.com  406-309-4231
Red Eagle Motel/ Johnsons https://www.redeaglemotelrvpark.com  406-732-4453   
Book early!
KOA (cabins and tent sites), 406-732-4122
http://koa.com/campgrounds/st-mary   There is also camping in Glacier National Park at St Mary Campground
Fly into Great Falls or Kalispell, Montana. 
Itinerary:
Sunday, Sept 18 – "Meet and greet" in the lobby at St Mary Lodge
Please bring some examples of your previous work to share.
Monday, Sept 19- explore the east side of Glacier National Park exact locations are weather dependent
Tuesday, Sept 20- am- explore the east side of Glacier
Wednesday, Sept 21- explore the east side of Glacier National Park
Thursday, Sept 22- explore the east side of Glacier National Park
The workshop concludes after the morning field session
Location:
 If you haven't been to Glacier before, now is the time! It is truly my favorite national park and basically in my backyard. Look there are many workshop tours based in the park, why not go with the local photographer who knows it best? I have been exploring and photographing the wonders of the park for nearly 30 years and know it extremely well.
The workshop will be based out of the small town of St Mary on the park's more scenic eastern side. We will have many great photo options including early fall color, waterfalls and wildlife. Valleys like Two Medicine, St Mary and Many Glacier will be starting to take on fall hues in the underbrush and host lakes that can yield stunning reflections on calm mornings. In the past, we have had very good luck photographing moose in a small lake. Bighorn sheep and mountain goats are almost always on hand at Logan Pass so bring your telephoto lens.
Book early as this class sold out last time and lodging is limited. I have moved this class from July when the park is slamming busy and lodging extremely difficult to secure. This early autumn class offers a more relaxed experience. A great opportunity to sharpen and improve many aspects of photography skills in a special and unforgettable setting.
Equipment Suggestions:
A sturdy tripod is a necessity for good landscapes. Participants should have a working knowledge of their equipment (know which button does what!) before the workshop. I suggest an SLR camera with a wide-angle lens (17-35mm range) a medium telephoto lens such as 70-200mm and a 300+mm lens if you are interested in capturing birds or wildlife 
2 WAYS TO REGISTER: 
*My Preferred Payment 1) DOWNLOAD REGISTRATION & WAIVER FORM – 2022 Workshop Register Form (PDF)
FILL OUT COMPLETELY AND MAIL WITH CHECK OR MONEY ORDER  TO:
Chuck Haney Photography
608 Pine Place
Whitefish, MT 59937 
2) ONLINE REGISTRATION (Payment via Paypal) *PayPal Holdings, Inc. is an American company operating a worldwide online payments system that supports online money transfers and serves as an electronic alternative to traditional paper methods like checks and money orders.                                                                                                                                                                                                                                                                                                                                                                                                                                                                                                                                                                                                                                                                                                                                                                                                                                                                                                                                                                                                                                                                                                                                                                                                                                                                                                                                                                                                                                                                                                                                                                                                                                                                                                                                                                                                                                                                                                                                                                                                                                                                                                                           
2022 Workshop Registration – PayPal (2)