Theodore Roosevelt National Park
June 8-12, 2021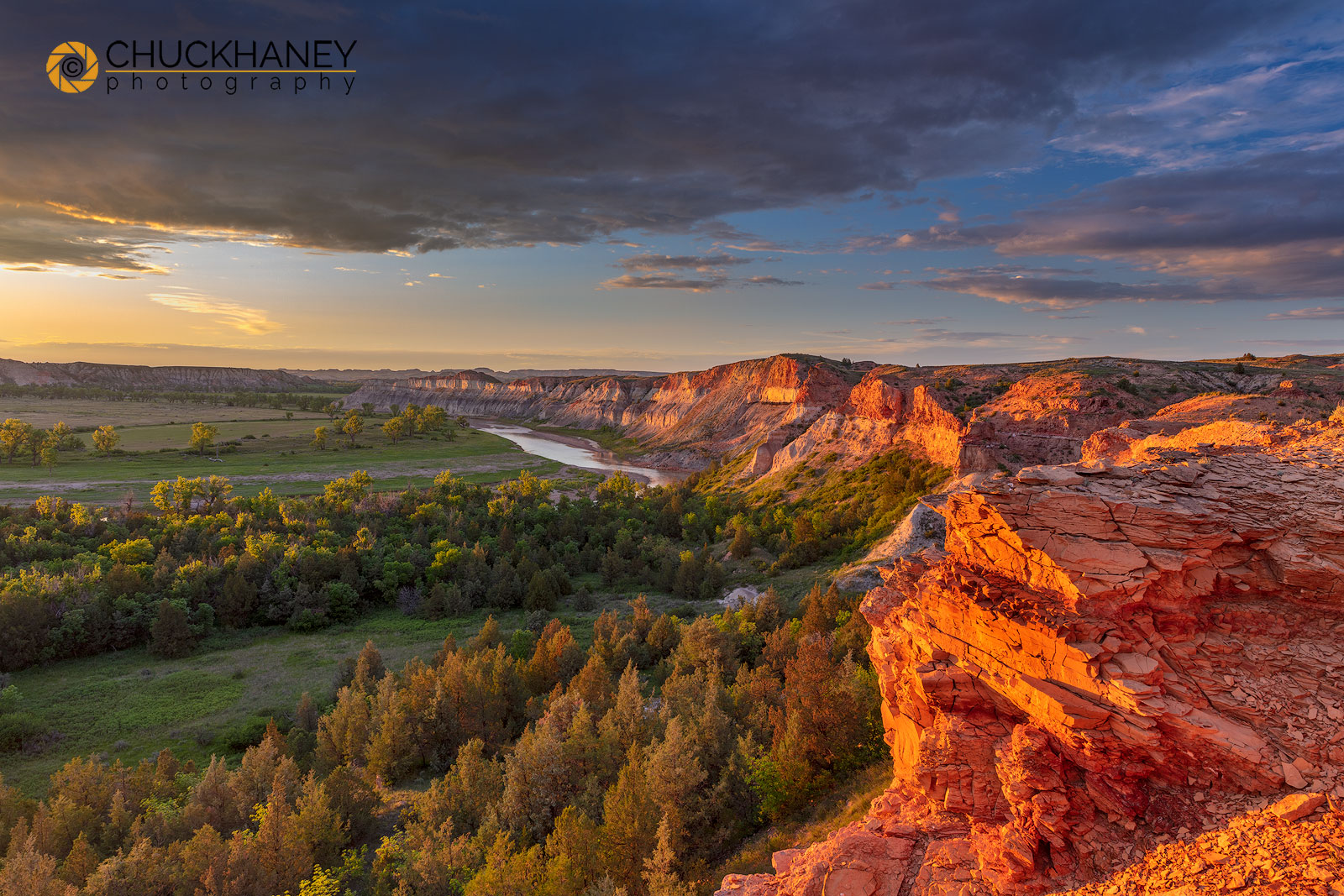 Theodore Roosevelt National Park Photo Gallery
Theodore Roosevelt National Park
Dates:
June 8-12, 2021
Location:
Theodore Roosevelt National Park is one of my absolutely favorite parks. In fact, the second best national park for photographing wildlife (behind only Yellowstone) in my opinion. I have been coming to this uncrowded park for over 20 years to photograph and explore and I know the park quite well. My book, "Theodore Roosevelt Impressions" is now in its second printing.
Here dramatic badlands and high plains are home to a large herd of bison reside along with bands of wild horses, elk, mule deer and prairie dogs. There are also plentiful birds, including songbirds, wild turkeys and owls. We will be visiting when the prairie is transformed by spring rains to a vibrant green with stands of wildflowers adding accents to the already colorful landscape. Best of all, unlike other national parks, we usually have the entire place to ourselves.
I've taught classes in this special park many times. The classes are usually small and we have had spectacular results with both wildlife and the weather.  Thunderstorms often pass through this region in June and if the timing is right, rainbows and dramatic skies complement the fascinating badlands landscape. Everyone who has taken this class has loved the experience. The small town of Medora where we will be based has "cowboy charm". In fact, our delicious breakfast stops like the Farmhouse and The Cowboy Cafe have become part of the workshop legend.
Price:
$1200.00  Workshop price includes instruction only. Lodging, transportation and meals are students responsibility. We will carpool. Limited to 8 students.
Lodging: 
https://www.americinn.com/hotels/nd/medora   701-623-4800  Book early as this hotel fills up quickly!
Other lodging options in Medora.
Buffalo Gap Ranch http://www.buffalogapguestranch.com/the-lodge/  701-623-4200
http://medora.com/stay/other/other-area-lodging/  (some Medora lodging not available for booking until April 27)
Camping is also available at Cottonwood Campground in the park & Buffalo Gap off I-94.
Fly into: Bismarck or Rapid City.
Itinerary:
Tuesday June 8 – "Meet and Greet"  at the American Inn lobby in Medora.
Please bring some examples of your previous work to share.
Wednesday June 9– explore Theodore Roosevelt National Park
Thursday June 10- explore Theodore Roosevelt National Park  / pm- explore the North Unit of the park
Friday June 11- explore Theodore Roosevelt National Park or Little Missouri National Grasslands
Saturday June 12– am- explore Theodore Roosevelt National Park, workshop concludes by 10am.
Equipment Suggestions:
A sturdy tripod is a necessity for good landscapes. Participants should have a working knowledge of their equipment (know which button does what!) before the workshop. I suggest a SLR camera with a wide-angle lens (17-35mm range) and  a medium telephoto lens up to 300-400mm. A longer telephoto lens of 400, 500 or 600mm could come in handy with the plentiful wildlife and birds in this park.
2 WAYS TO REGISTER: 
*My Preferred Payment 1) DOWNLOAD REGISTRATION & WAIVER FORM – Updated 2021-22-Workshop-Register-form
FILL OUT COMPLETELY AND MAIL WITH CHECK OR MONEY ORDER  TO:
Chuck Haney Photography
608 Pine Place
Whitefish, MT 59937
2) ONLINE REGISTRATION (Payment via Paypal) *PayPal Holdings, Inc. is an American company operating a worldwide online payments system that supports online money transfers and serves as an electronic alternative to traditional paper methods like checks and money orders.
How Can I Help? Contact Me!